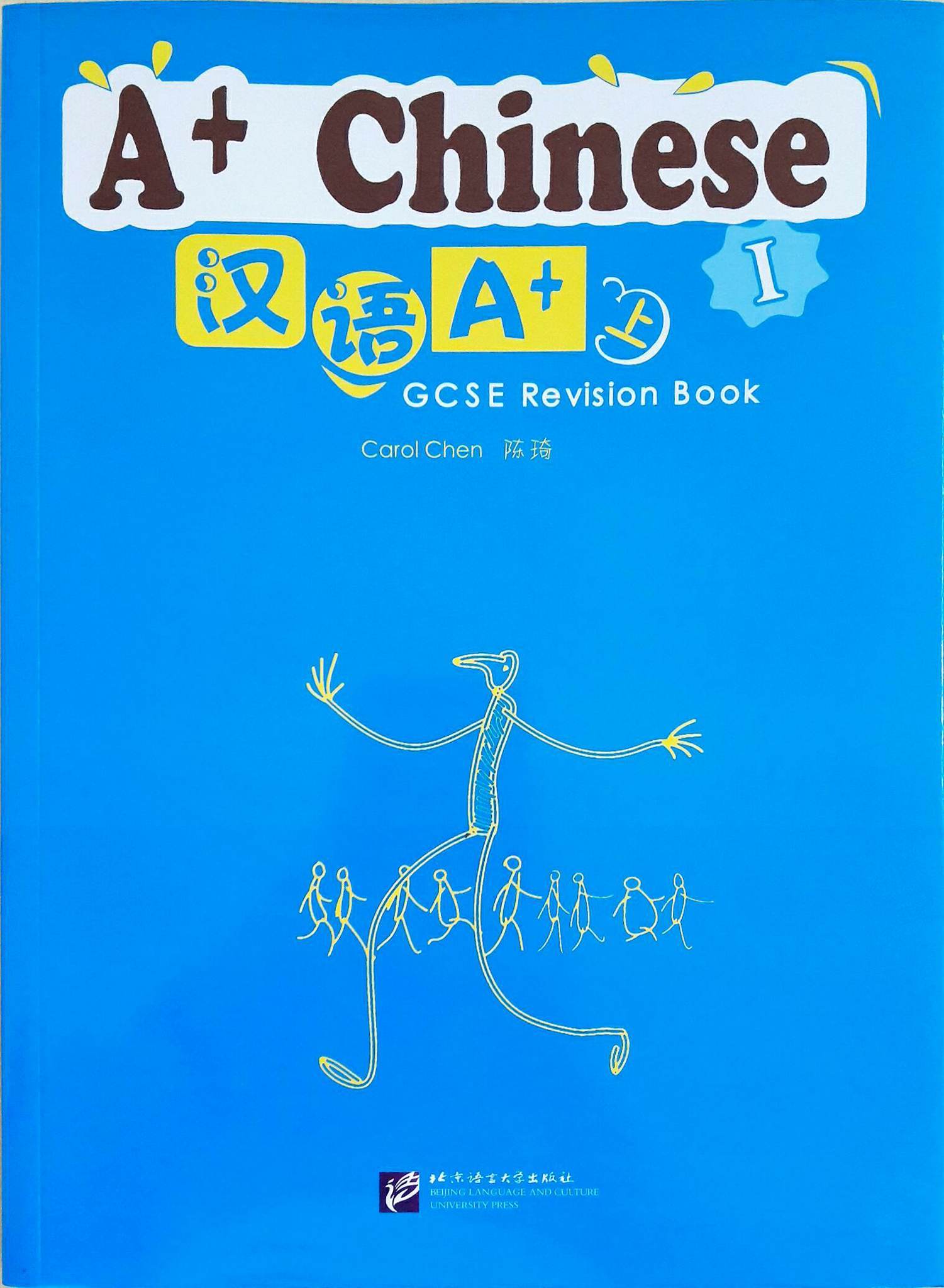 IGCSE Revision Book《汉语A+ 上册》(A+ Chinese vol 1)
"A + Chinese 1" adalah buku rujukan dalam dua jilid yang ditulis untuk pelajar subjek Mandarin sekolah menengah, terutama bagi mereka yang mengikuti kursus sekolah antarabangsa (dan swasta) seperti GCSE / IGCSE, IB, SAT dan Ujian Mandarin Australia. Ia sesuai bagi para pelajar yang mempunyai kira-kira dua tahun pengalaman belajar Bahasa Mandarin dan sudah penguasaan kira-kira 400-500 patah perkataan mandarin.
Set buku dalam dua jilid ini mengandungi 27 bab utama yang menerokai topik-topik pelbagai aspek kehidupan seharian.
Topik-topik jilid 1 ini merangkumi:
Bahagian 1
Bab 1: Pengenalan Diri
Bab 2: Keluarga
Bab 3: Rumah Kediaman
Bab 4: Jiran dan Persekitarn
Bab 5: Kehidupan Harian
Bahagian 2
Bab 6: Subjek-subjek yang berlainan
Bab 7: Kemudahan Sekolah
Bab 8: Aktiviti-aktiviti Sekolah
Bab 9: Pelan Kerjaya Masa Depan
Bahagian 3
Bab 10: Benda Kegunaan Harian
Bab 11: Membeli-belah
Bab 12: Makanan dan Minuman
Bab 13: Kesihatan
Ia juga merangkumi perbendaharaan kata penting terpilih bagi ujian rasmi sekolah antarabangsa atau swasta. Untuk memastikan pembangunan seimbang para pelajar dalam menguasai bahasa mandarin, semua latihan direka untuk meningkatkan keupayaan mendengar, berbicara, membaca dan menulis secara berperingkat. Tambahan pula, buku itu juga menyediakan latihan yang pelbagai untuk pelajar mengulang kaji di rumah jadi buku jawapan dan CD rakaman disediakan.
Harga jualan ialah RM 42 dengan jumlah 158 muka surat.
Sesuai untuk: Calon Peperiksaan GCSE / IGCSE, IB, SAT dan Australia Mandarin
Diterbitkan oleh Universiti Bahasa dan Budaya Beijing
If you face any problem on payment, shipping or wish to know more on the contents of the book, you always can reach us by clicking this Whatsapp link: http://api.whatsapp.com/send?phone=60166228057
English Description:
IGCSE A+ Chinese vol2 IGCSE Revision Book
IGCSE汉语A+ 下
A+ Chinese is a 2 volume set designed for Chinese learners in secondary schools. Its target readers are candidates of GCSE/IGCSE, IB, SAT and Australian Mandarin Exams who have approximately two years of Chinese learning experience and a mastery of about 400-500 Chinese words. This set includes two volumes with 27 lessons in all. The lessons explore topics from various aspects of daily life. In fact the series also covers essential vocabularies that has been chosen based on the basic and most commonly used words in a variety of official exams. All the exercises are designed to improve the four language skills: listening, speaking, reading and writing to ensure a balanced development. In fact, the book also provide diverse exercises for students to study more of the mandarin language at home including answer booklet and CD of recordings.
This set includes two volumes with 27 lessons as below
Part 1
Lesson 1: Self
Lesson 2: Family
Lesson 3: Home
Lesson 4: Neighborhood and Rgion
Lesson 5: Everyday Life
Part 2
Lesson 6: Different Subjects
Lesson 7: School Facilities
Lesson 8: School Activities
Lesson 9: Future Career Plans
Part 3
Lesson 10 : Daily Essentials
Lesson 11: Shopping
Lesson 12: Food and Beverage
Lesson 13: Health
The selling price is RM 42 with a total of 158 pages.
Suitable for : Candidates of GCSE/IGCSE, IB, SAT and Australian Mandarin Exams
北京语言大学出版社
Published by Beijing Language and Culture University Press
If you face any problem on payment, shipping or wish to know more on the contents of the book, you always can reach us by clicking this Whatsapp link: http://api.whatsapp.com/send?phone=60166228057
《汉语A+》是中学汉语教材,适用于学过两年汉语,掌握了400-500词,准备参加GCSE/IGCSE、IB、SAT、和Australian Mandarin Exams等汉语考试的学生。本书分为上、下两册,并将考试官方常用词汇融入各种练习中。此外,为了增加学生的学习兴趣,以及加深学生对中国文化的了解,编者也融入了多个与青少年有关的时尚、校园生活话题。编者也在书中加入了听、说、读和写的部分,使学生能够在学习汉语的道路上得到平衡的发展。书中为了帮助学生自习,提供了检字表、参考答案册和听力练习光碟。
《汉语A+》上册的目次如下:
第一部分
第一课:个人
第二课:家庭
第三课:住所
第四课:居住环境
第五课:日常生活
第二部分
第六课:不同的课
第七课:学校设施
第八课:学校活动
第九课:未来职业规划
第三部分
第十课:日用品
第十一课:购物
第十二课:饮食
第十三课:健康
售价马币四十二,总页数:158
---